SUBSCRIBE TO OUR DECEMBER BOX TODAY! * A MONTHLY CHRISTIAN FAITH FILLED SUBSCRIPTION BOX! * WE CAN'T WAIT TO WELCOME YOU TO OUR COMMUNITY!
Spark Joy & Encourage Subscription Box
A Monthly Faith Box of Devotionals, Bible Studies, Journals, Stationery and Self-care items - created with a different theme each month!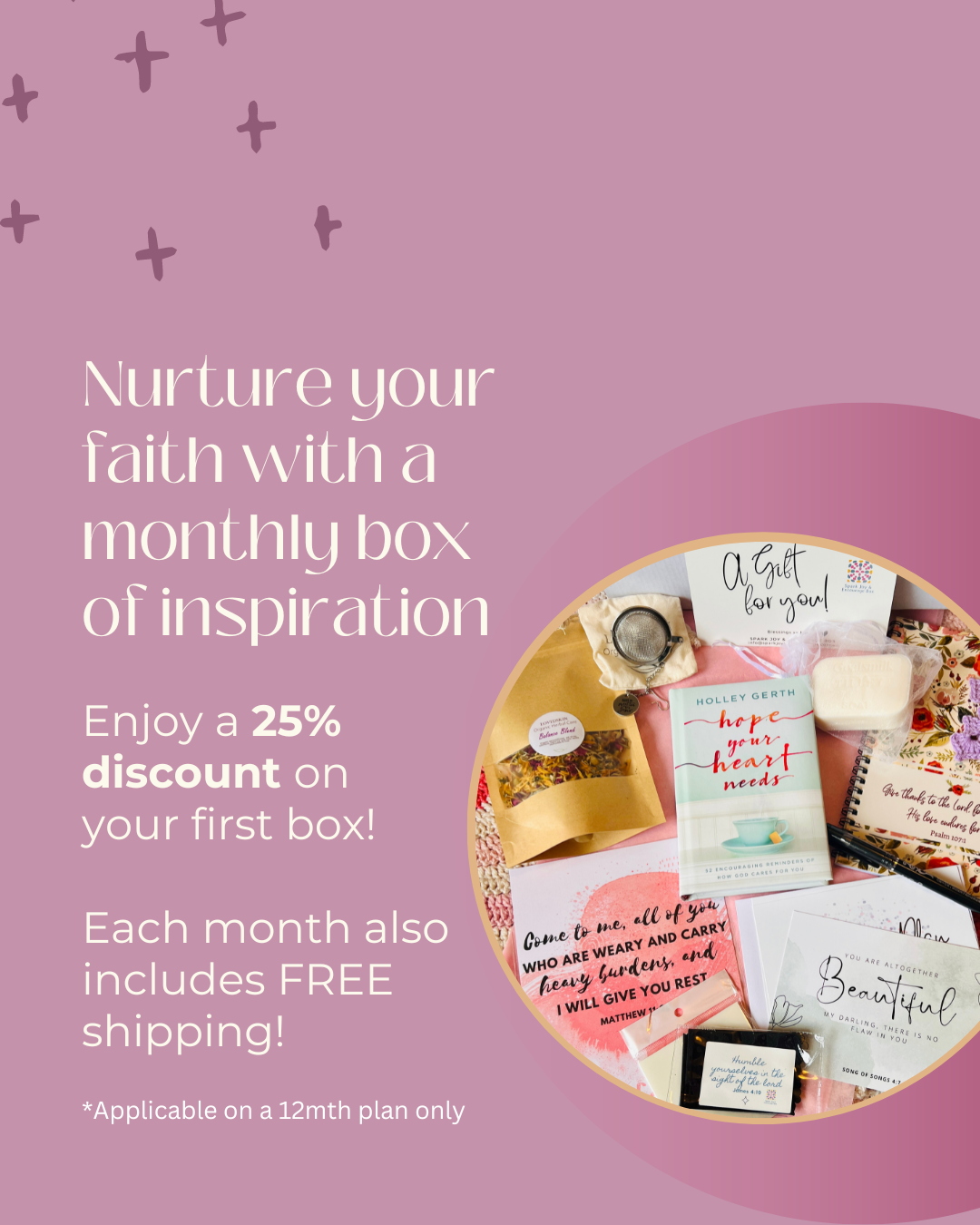 Subscribe before the 20th of December 2023 to start your Christian Subscription Box with our December box! We always ship after the 20th of each month - yay!
We hand select each product based on the theme of the month chosen exclusively to bless your journey.
You won't know what's in the box until it arrives at your front door! 
Our hope is that the themed box you receive each month encourages you in your daily life and gives you an opportunity to bless & share with others as well.
What a special moment to receive an anonymous nomination for the KWE Academy Awards this year! I feel so incredibly blessed to be doing what I do - encouraging you and sharing joy with you via a Christian faith subscription box!

The KWE Academy Awards is a special event dedicated to acknowledging, celebrating, and paying tribute to the commitment and extraordinary achievements of Christian Women who have embraced their God-given calling in business and made a significant difference in their communities.
To Spark Joy & Encouragement one box at a time with an Australian Christian Subscription Box!
---
As women, it's all too easy to get caught up in day-to-day tasks that require our attention and forget about our own personal needs. We are here to support you in your Christian faith journey with a monthly Christian Subscription Box!
By taking some time to fill up our own tanks with God's love, we can prevent that burnout and give ourselves the self-love and attention we need to continue moving forward, enable personal growth, and get closer to achieving our dreams and goals. 
Our box makes it easier for you to live your life faith centred with encouragement and joy you crave.
Encourage one another and build each other up. 
1 Thessalonians 5:11
MONTHLY PLAN
$69.95 per month
✔️ Includes FREE Shipping each
month Australia wide
✔️ Delivers every month after the 20th
✔️ Auto renews each month, until cancelled
6 MONTH PLAN
$67.95 per month
✔️ Includes FREE Shipping each
month Australia wide
✔️ Delivers every month after the 20th
✔️ Auto renews each month for 6 months
12 MONTH PLAN
$64.95 per month
✔️ Includes FREE Shipping each
month Australia wide
✔️ Delivers every month after the 20th
✔️ Auto renews each month for 12 months
✔️ Receive 25% off your first box (automatically applied at checkout)
/** * @var $module \Ucraft\Module */ ?>
Esther

I just love my monthly box. I get really excited & can't wait to get my new one. It's so great as it makes you really feel special & it's a real inspiration. For those who haven't yet signed up then I definently encourage you to do so. May God bless you.

Lynne

Oh, this month's box (November 2022) has to be my favourite so far. Thank you so much for your creativity and thoughtfulness in putting these together. Bless you!

Sheree

I also wanted to thank you for your gifts of service to inspire and encourage others to live with Jesus.
DEVOTIONAL OR BIBLE STUDY
Every month we choose a theme with a right-on-time message for you. Your box will feature a Devotional, Bible study or Christian book based on the theme of the month.
Stationery/ journaling items/ Bible items/ selfcare items / scripture theme items – all wrapped around our monthly theme.
Usually 6-8 products.
To encourage you when life seems hard.
To support you to keep stepping out in faith.
To inspire you in your walk with God.
Use our monthly devotionals & Bible studies to strengthen your Faith.
One of the most popular Self Care is the use of our self-care products.
She is fearfully and wonderfully made.
Psalm 139:14
With a Spark Joy Subscription Box we're here to:
Help you spend time in devotion with God
Encourage you to Journal your thoughts and prayers
Find products that centre your daily focus on Christ
Once you start investing in yourself and your personal growth, the benefits are endless.
Every month enjoy hand-selected products exclusively to spark joy and encourage you!
With a new theme each month containing beautiful gifts created by Australian artists and crafters.
EACH MONTH WE WILL BRING YOU A NEW THEME SO YOU CAN GROW MORE IN YOUR FAITH!
Creating space for you to be still each day to spend more time with God.