SUBSCRIBE TO OUR DECEMBER BOX TODAY! * A MONTHLY CHRISTIAN FAITH FILLED SUBSCRIPTION BOX! * WE CAN'T WAIT TO WELCOME YOU TO OUR COMMUNITY!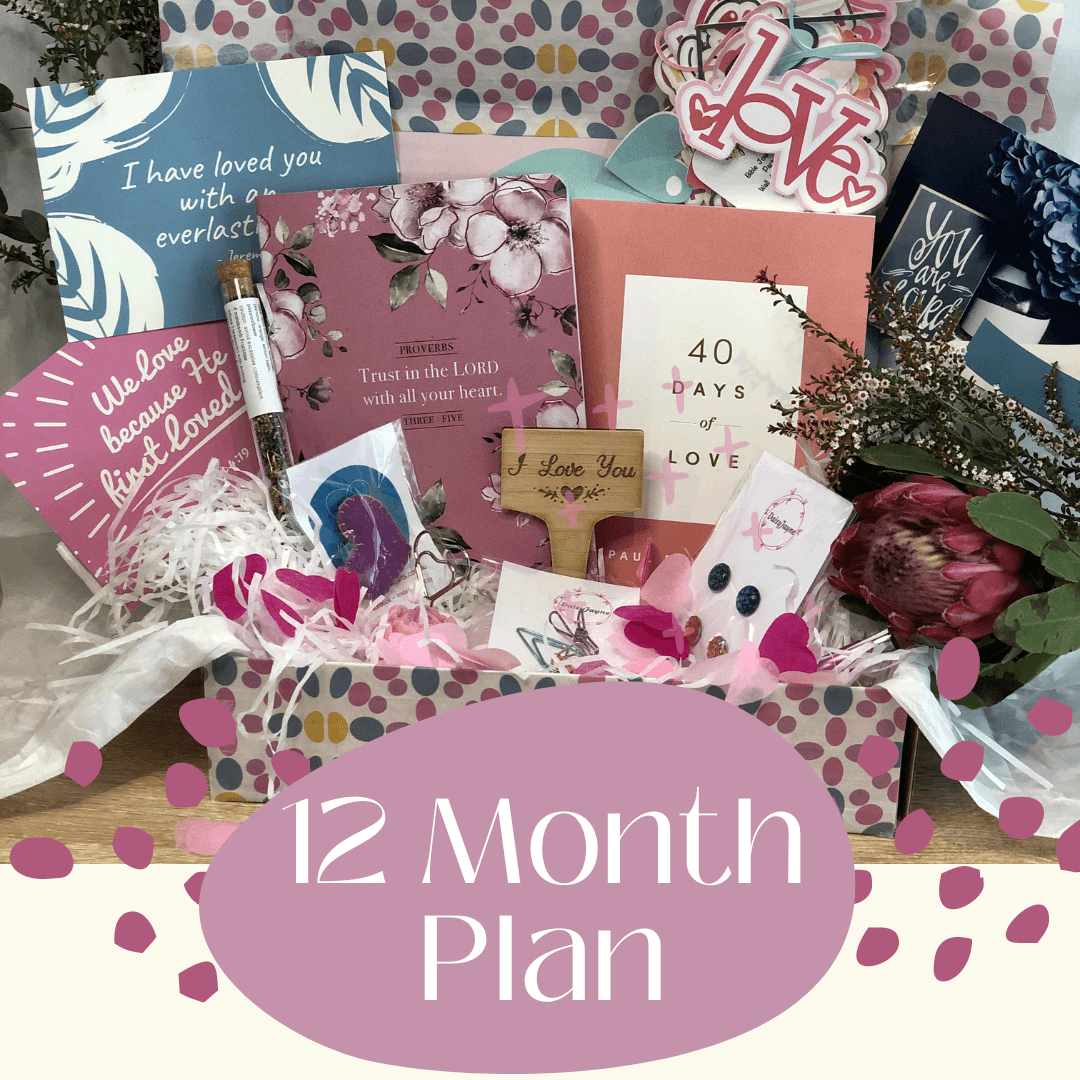 Experience the uplifting power of our monthly themed box, conveniently delivered to your door.
This special subscription is designed to provide you with Hope, Joy, and Encouragement through a carefully selected Bible Study or devotional included in each box.
Embrace the anticipation as each box unveils a collection of 7-8 inspired items that beautifully intertwine with our monthly theme. Discover a delightful assortment of products carefully curated to complement and enhance your spiritual experience.
With every box, you'll encounter a harmonious blend of treasures that resonate with the overarching theme, enriching your journey of faith and inspiration.
Let the transformative messages and insightful teachings enrich your faith journey.
Subscribe to our 12
Month Plan.
With our Auto-Renewal Subscription, you can effortlessly continue receiving the Spark Joy and Encourage Box without any interruption. This subscription ensures that you never miss out on the uplifting and inspiring items that bring joy and encouragement to your life.
$64.95 per month
*25% off first box automatically applied at checkout*
Includes FREE AUS WIDE Shipping Each Month
*NB. Your subscription will start with the DECEMBER box shipping after 20th December 2023
Immerse yourself in a transformative journey with our 12-month subscription plan!
Embark on a year-long adventure filled with faith-based treasures delivered right to your letterbox. Each month, you'll receive a specially curated box brimming with themed Christian faith goodies. Let this subscription be your steadfast companion, bringing inspiration and joy to your spiritual life.
To make things easier, payments for recurring subscriptions are renewed on the 15th of each month, ensuring a seamless experience for you. The subscription costs $64.95 per month and continues for the entire 12-month duration of your subscription. After the initial 12 months, it will continue until canceled, providing you with continued blessings and spiritual nourishment.
Open the door to a world of faith and discovery by
embracing our subscription today.
Please view T&C's here.
Therefore Encourage one another and build each other up. 
1 Thessalonians 5:11