SUBSCRIBE TO OUR DECEMBER BOX TODAY! * A MONTHLY CHRISTIAN FAITH FILLED SUBSCRIPTION BOX! * WE CAN'T WAIT TO WELCOME YOU TO OUR COMMUNITY!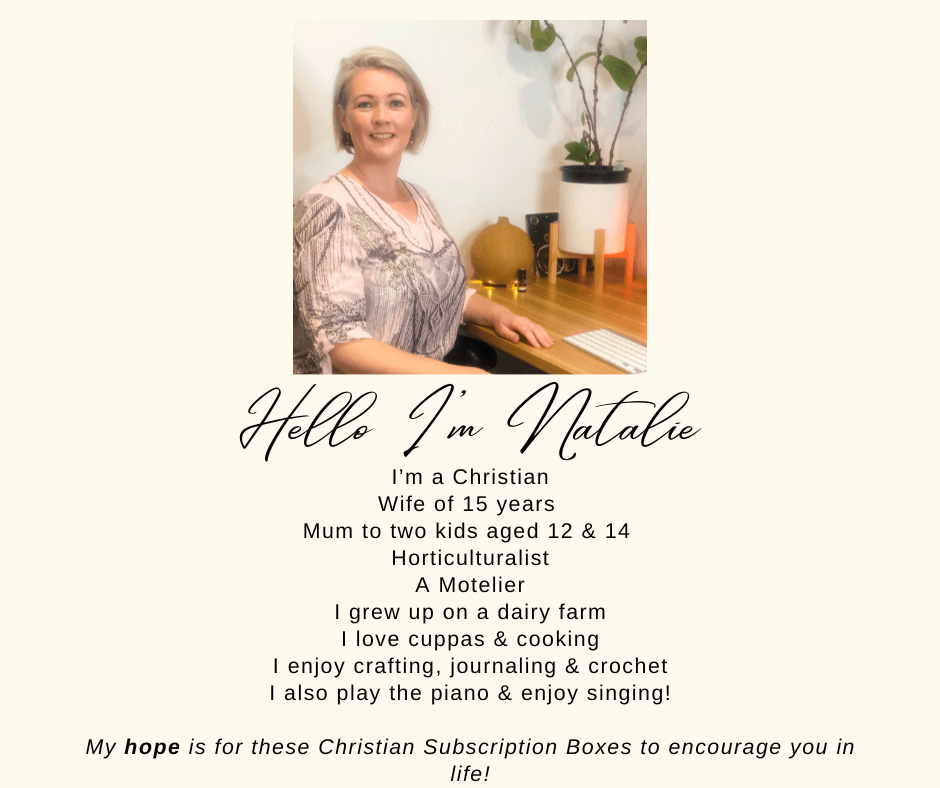 Hi, I'm Natalie, Curator behind the Spark Joy & Encourage Christian Subscription Boxes.
I'm blessed to live in Regional Victoria with my beautiful family. I created this monthly Christian subscription box service to help inspire you to be encouraged on a daily basis. Not only to inspire you but also to inspire and encourage me as well! 
I wanted to create a gift based business that was uplifting and reaching others with an encouraging message on a regular basis.  The thought was planted when I was reflecting back over the hard days/weeks/months of 2020 where there was so much disruption to our lives, all our lives, and I realised that if it wasn't for my solid footing in my faith, the days and weeks would have been so much harder. 
During this time, I committed myself to daily devotions and journaling and lots of praise music. This created a space for reflection and listening to what God was saying and really helped me push through the hard days. 
In April 2021, when life had somewhat started looking like normality was creeping back in, God placed this subscription box idea on my heart.To Spark Joy in your life and encouragement when it's needed most. 
My hope is to encourage you – to tell you you're not alone and to inspire you to get through the good and bad seasons in life!
This is a monthly box I needed to uplift me & now I create these boxes for you. xx
Let's Spark Joy & Encourage others!
Therefore encourage one another and build each other up, just as in fact you are doing.  Thessalonians 5:11
Use our monthly devotionals & Bible studies to strengthen your Faith.
One of the most popular Self Care is the use of our self-care products.
She is fearfully and wonderfully made.
Psalm 139:14