SUBSCRIBE TO OUR DECEMBER BOX TODAY! * A MONTHLY CHRISTIAN FAITH FILLED SUBSCRIPTION BOX! * WE CAN'T WAIT TO WELCOME YOU TO OUR COMMUNITY!
Use our monthly devotionals & Bible studies to strengthen your Faith.
One of the most popular Self Care is the use of our self-care products.
She is fearfully and wonderfully made.
Psalm 139:14
Welcome!
Nurture
your
faith
with
a
monthly box
of inspiration!
New Subscription Intakes with
Spark Joy & Encourage Subscription Boxes are now open!
Taking new subscriptions up until 20th December 2023
Your first box will be shipped out after the 20th December 2023.
Numbers are limited - subscribe today to guarantee your box!
Receive 25% off your first box!
* On a 12 month plan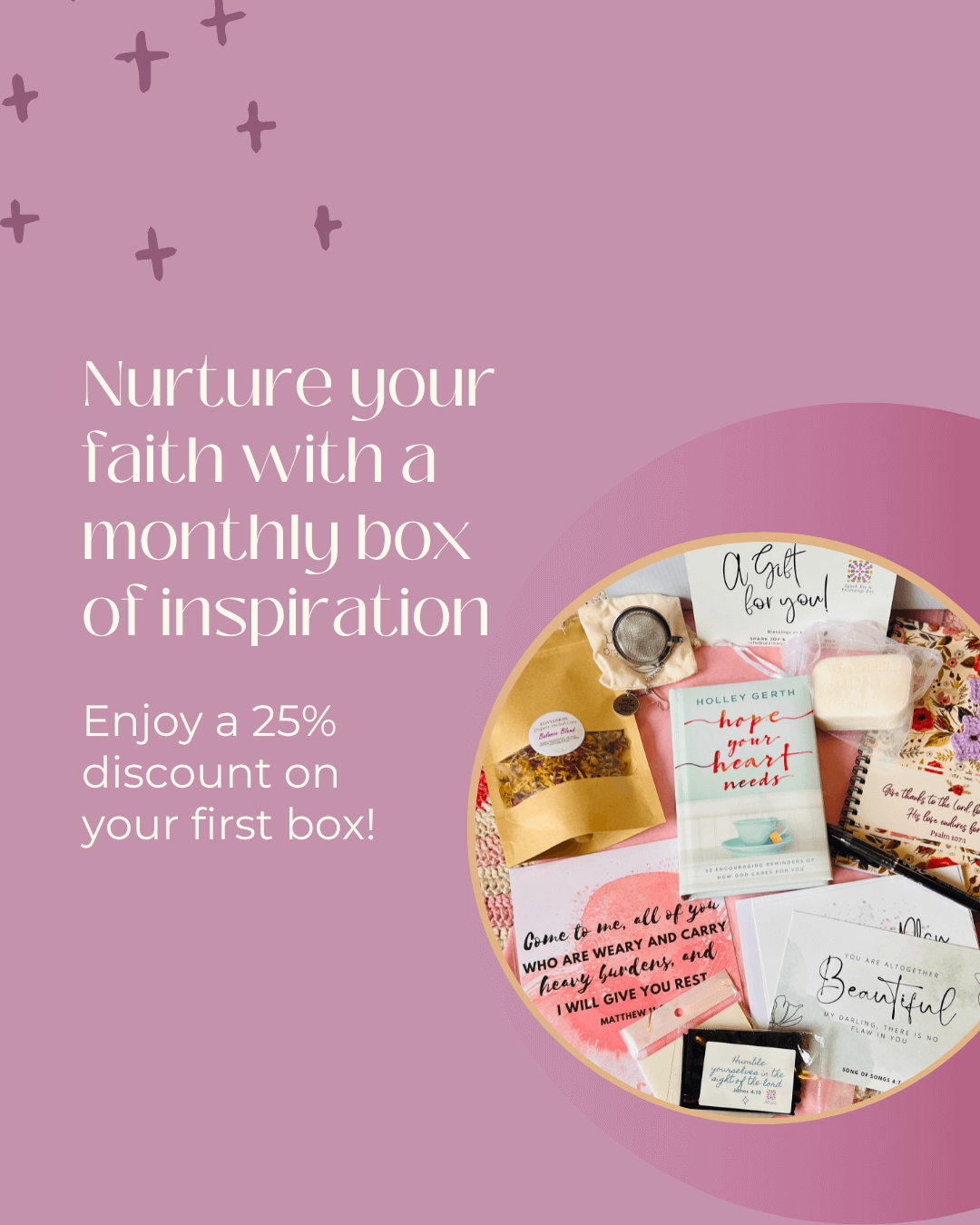 Do you struggle knowing how to spend time with God?

Do you struggle with choosing or knowing which devotional you should be using?

Do you need help to refocus & centre your life on God?

Do you crave to be encouraged each and every month?
Receive a monthly box that is filled with Christian faith based products to help support your Christian faith journey!
Our themed boxes provide a beautiful mix of devotionals, books, prayer journals, scripture cards & added gifts.
Delivered (Shipping is FREE) to your door Australia wide after the 20th of each month for the duration of your subscription.
Choose from a month to month, 6 monthly or 12 month plan!
  Subscribe once and sit back and let your faith grow in all areas of your life.
NEW INTAKES FOR OUR DECEMBER BOX CLOSE IN 
Subscriptions have now closed for this month - Sign up now to start your subscription with our next box!
/** * @var $module \Ucraft\Module */ ?>
Tiera

"My box arrived! I FELT SO ENCOURAGED, and had an overwhelming feeling of love. It's been a hard year and this just made all the hard work and sleepless nights worth it!"

Claire

"The box was amazing! I'm sure it has and will bless many women!"

Faguni

"Absolutely loved the box! I am a new follower of Christ and honestly, this is exactly what I was looking for in a subscription box to develop my faith in Christ!"

Kerri

"Your boxes have delighted everyone I have sent them too and been an encouragement to me through this year".

Lynne

"Can I say also, that I truly love these boxes. You are giving me the impetus to spend time with the Lord daily, in a meaningful way".
 DECEMBER THEME
'Reflection'
Our December Focus book & theme is a perfect way to get exctied about the New Year ahead!

Make

reflection

a daily habit in the New Year and onwards over 5 years.
You can find contentment in journaling even the simplest of things.
Use this

memory book

by jotting down a quick one-liner each day for five years. This gorgeous book transforms into a fabulous world of forgotten highlights you can regularly revisit with the simple flick of a page.
Take the time each day to stop and reflect on your day.
Our December Box will include 8 items including our Book of the Month!
Shipping direct to you after subscription close on the 20th December.
Contents Featured in some of our PAST BOXES